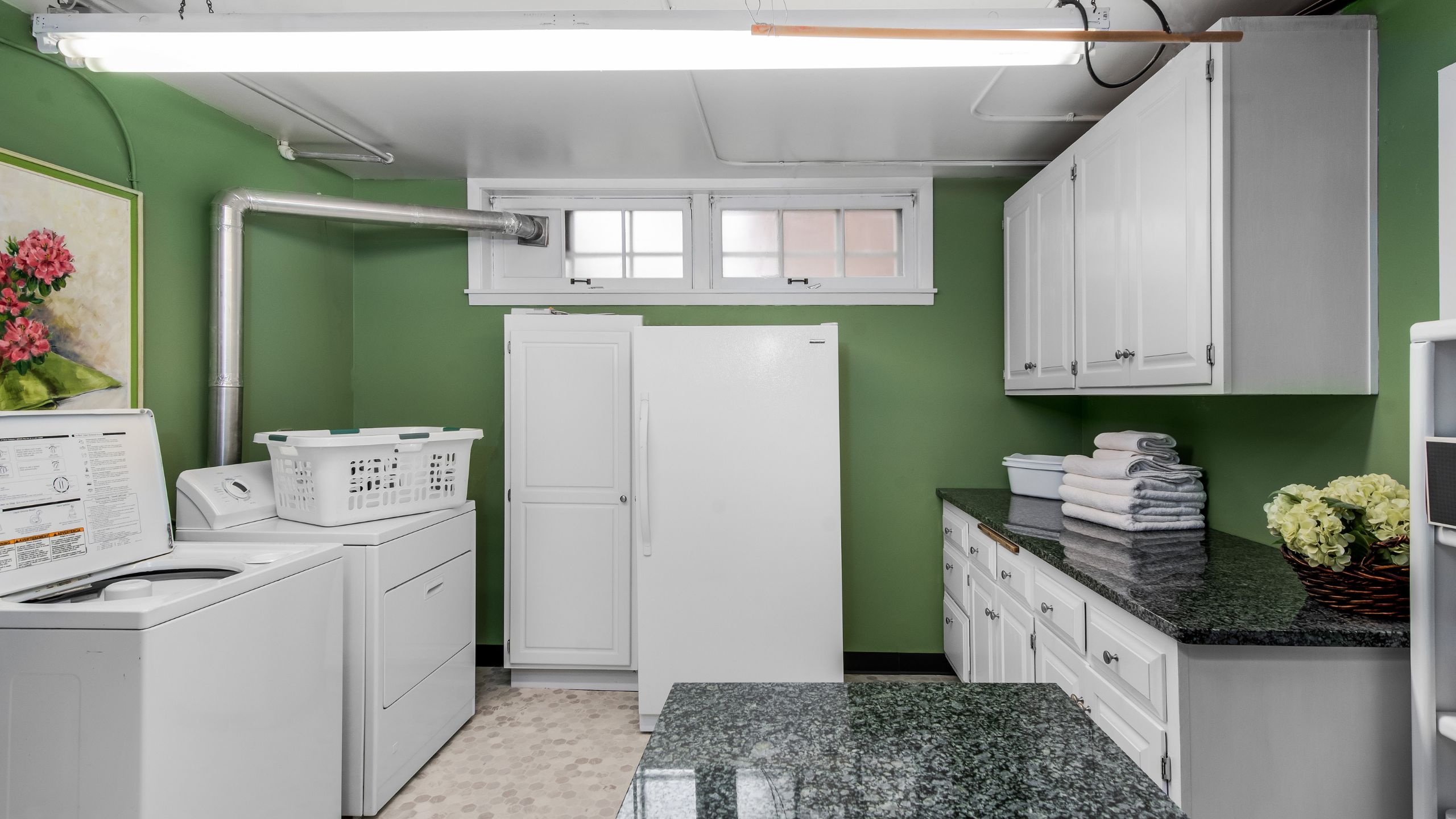 laundry room design
Better Basement Laundry
Six tips for creating a
functional laundry room design.
---
Many of us have our laundry rooms located in the basement of our homes. The good news is that you get your exercise running up and down the stairs. But have you taken a look at this highly-used space lately? There are many ways to make the space more comfortable, stylish, and functional.
Whether the laundry is up or down, make sure this space is well-lit, has a place to sort and store things, and is a nice place to visit (since laundry is never finished)! Use these tips to help design your laundry room into a space you'll love.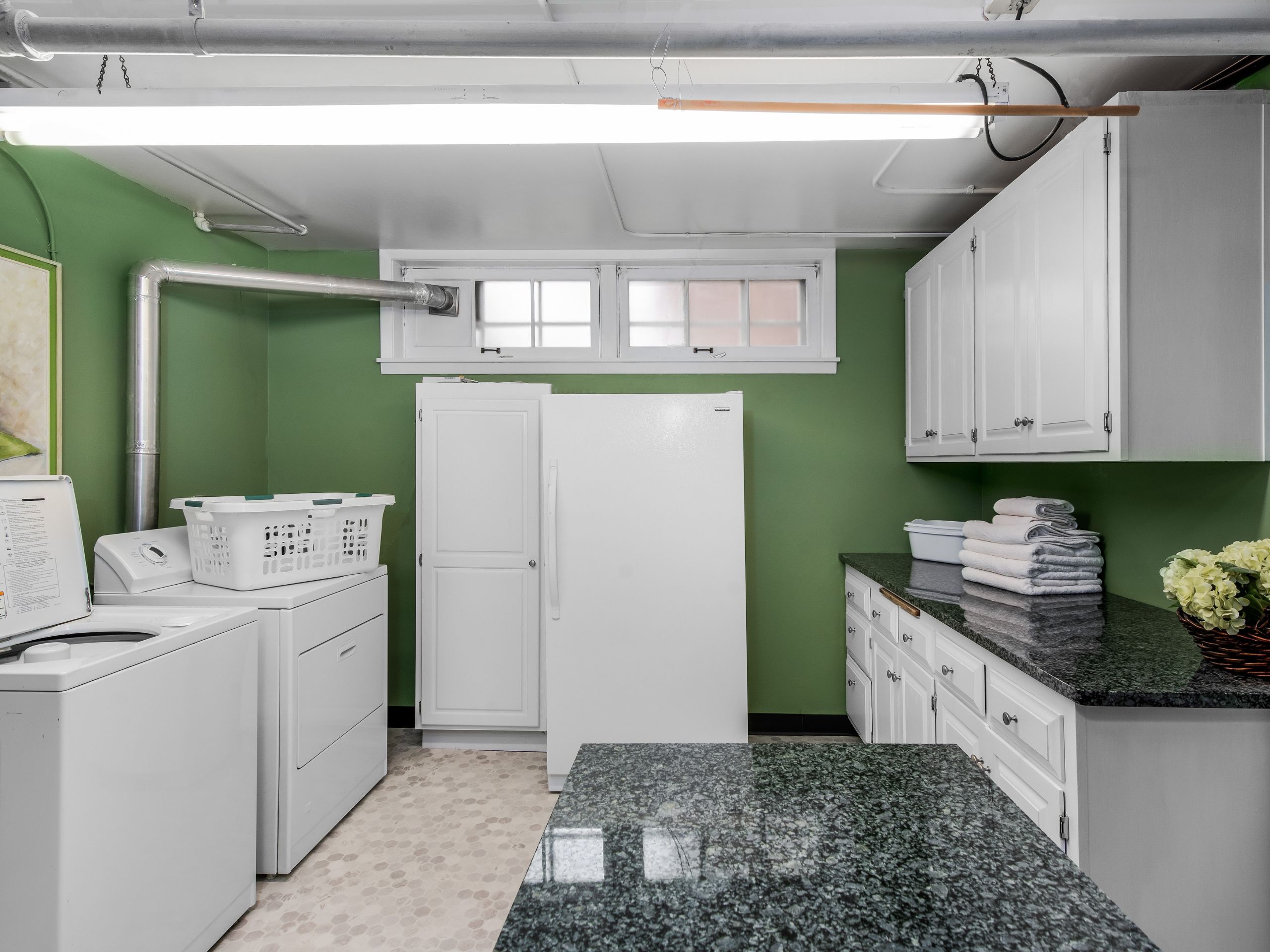 Laundry Room Tip #1: Reduce, Reuse and Recycle
In the project, Sunny Tangletown Classic, we put a fresh coat of paint on the old kitchen cabinets and installed them in the laundry room. We also saved the old granite countertops and used them to create more space to sort and fold. There's always a basket or two that needs sorting or folding so a designated space (a table or counter) is a must-have.
Reusing old cabinets and countertops was a budget-friendly (and earth-friendly) solution that transformed this laundry room into a functional and organized space.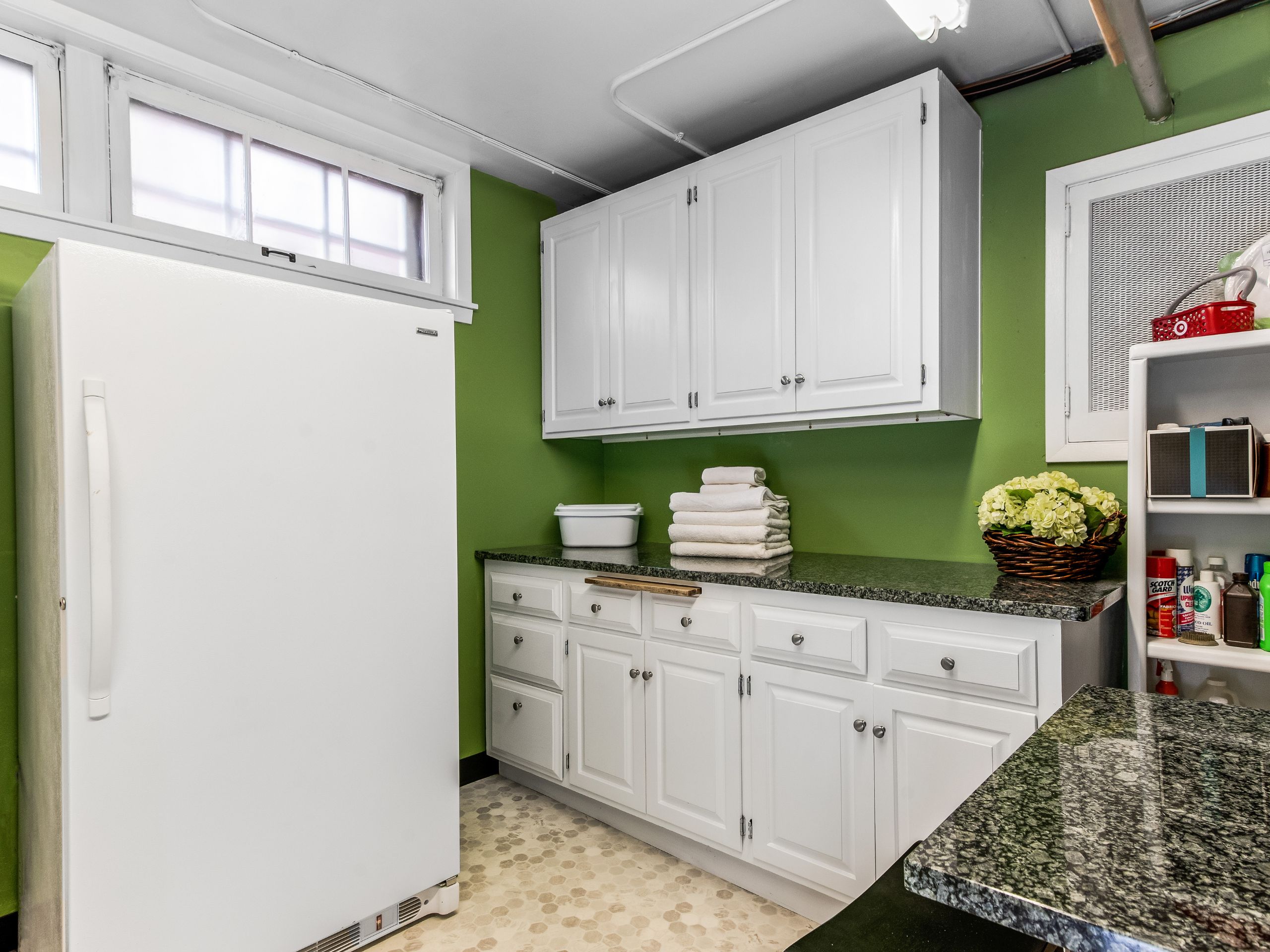 Laundry Room Tip #2: Prioritizing Storage
The laundry room can be for more than just laundry. If space allows for it, shelving and cabinets can be used for other home goods or even a second refrigerator seen here.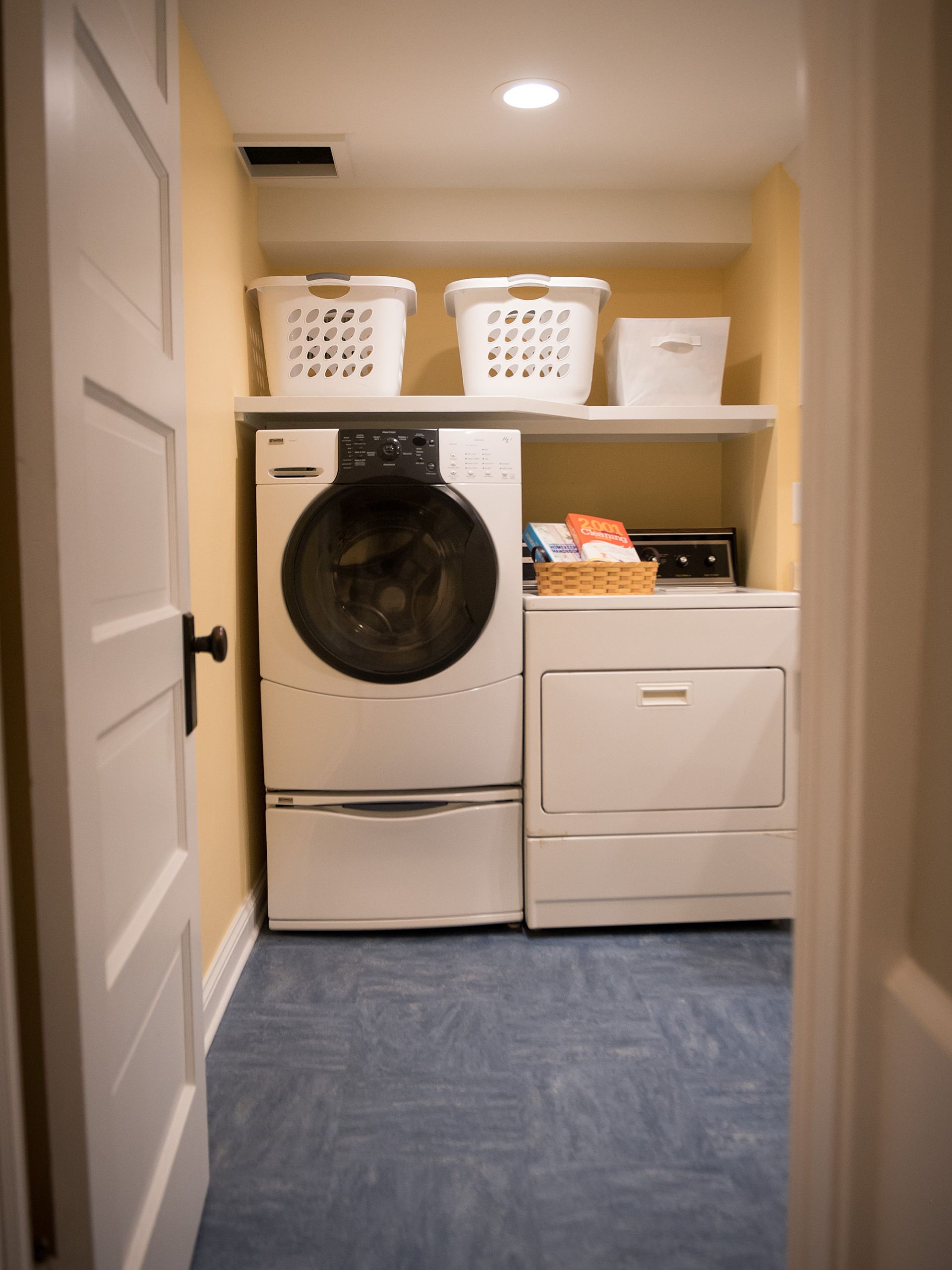 Laundry Room Design Tip #3: Maximize Every Inch
A small laundry space shouldn't limit the function of your space. Notice the laundry chute in the upper left corner! The added shelf above is the perfect size for a hamper to catch clothes that are thrown down the chute.
Laundry Room Design Tip #4: Durable Flooring
In a laundry room, you'll want flooring that is moisture-resistant, stain-resistant, and impact-resistant. Used here is a Luxury Vinyl Flooring that will stand the test of time and it looks great. Vinyl, ceramic, and natural stone are also great options.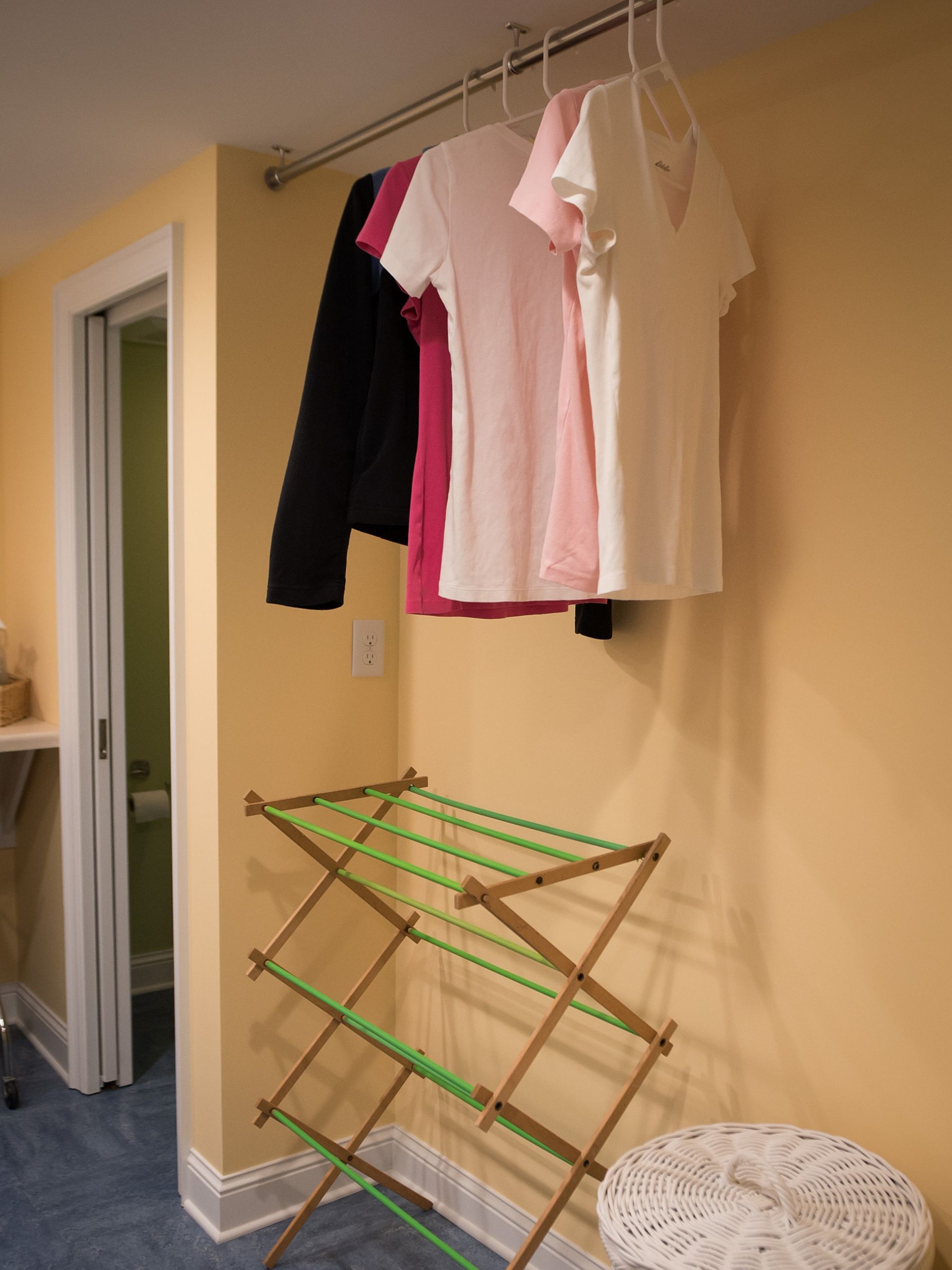 Laundry Room Design Tip #5: Place to hang
No frills here. Just a simple and practical solution to dedicate an area to hanging and drying wet clothes.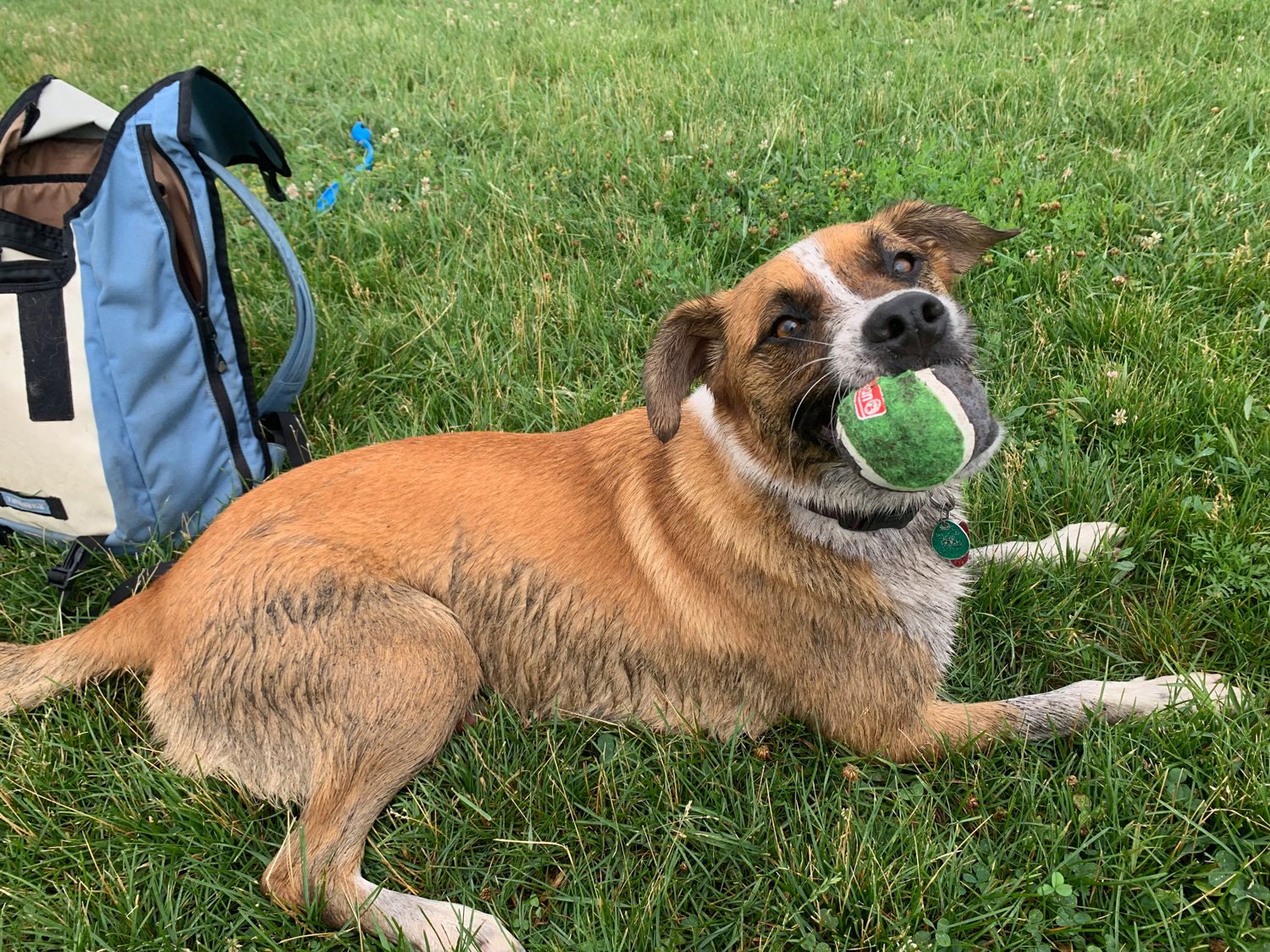 Laundry Room Design Tip #6: Rethink the Sink
Basement laundries often have old concrete tubs which are typically quite large and take up a lot of space. Replacing the sink with a newer model is a simple way to make the laundry room feel and function much better! Does your dog enjoy rolling in mud puddles and decaying flesh? Many basement laundry rooms are roomy enough for an oversize sink or dog washing station.
Related Posts
Take a look at your home to determine how it can be adapted to plan for retirement without sacrificing style, design, or functionality.

Meet award-winning architect, Harvey Sherman. Green building designs focused on energy and resource efficiency have been a speciality of his since 1980.

The value of a Temporary Kitchen during remodeling progress is unmatched when considering the convenience, cost, and health benefits.