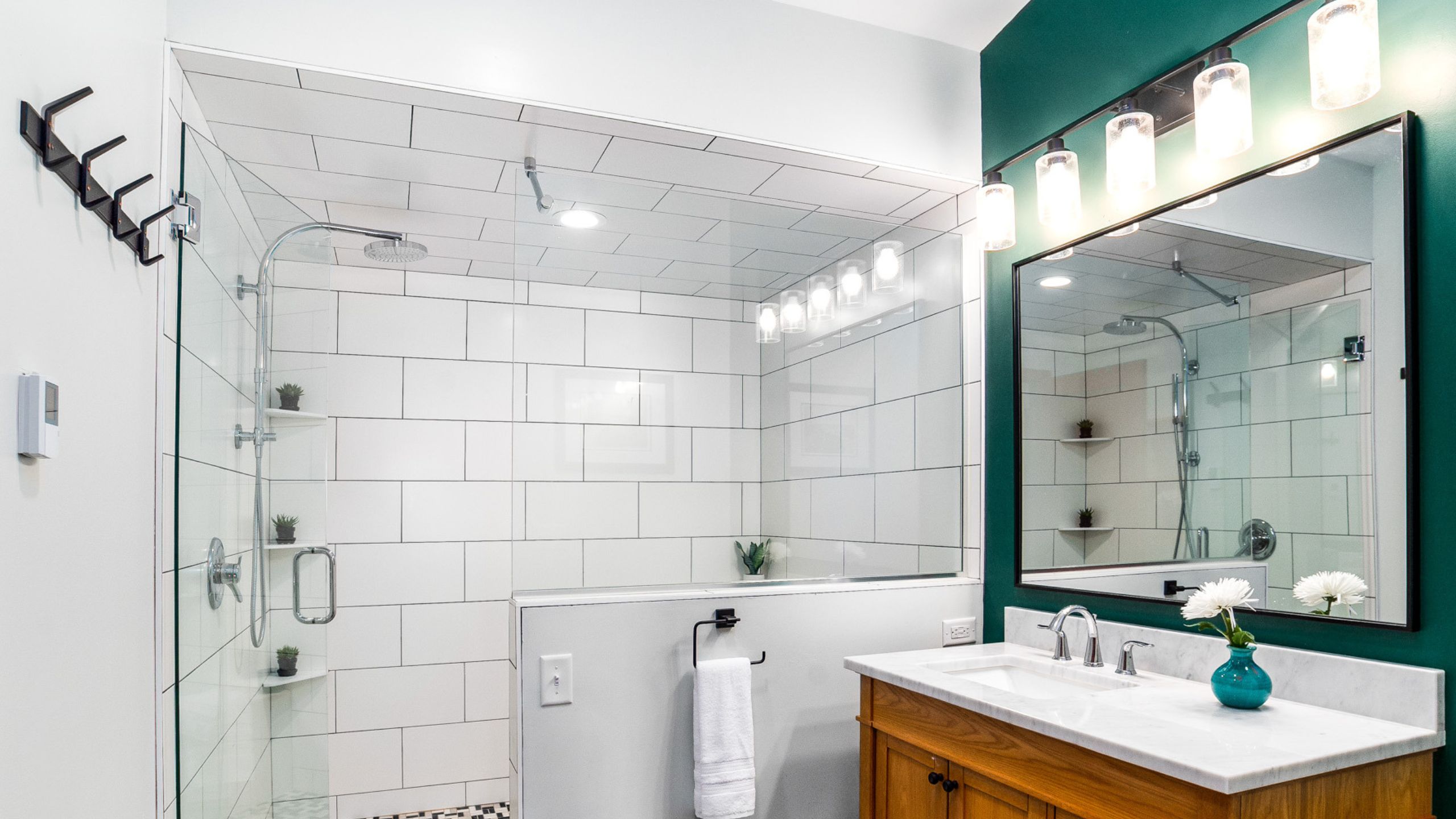 bathroom Expansion remodel
Black & White Classic
A bathroom expansion remodel in a south Minneapolis Tudor home.
In preparation for welcoming their newest little one, this family contacted us to remodel their bathroom on the second level of their home. The existing bathroom was right off the bedrooms and had access from the common area and the owner's closet. It was outdated, small, and had a tight-standing shower. To expand the bathroom's layout we absorbed the hallway and relocated the doorway. Finished in a black and white style, this elegant and comfortable bath is perfect for escaping the chaos of two young kids.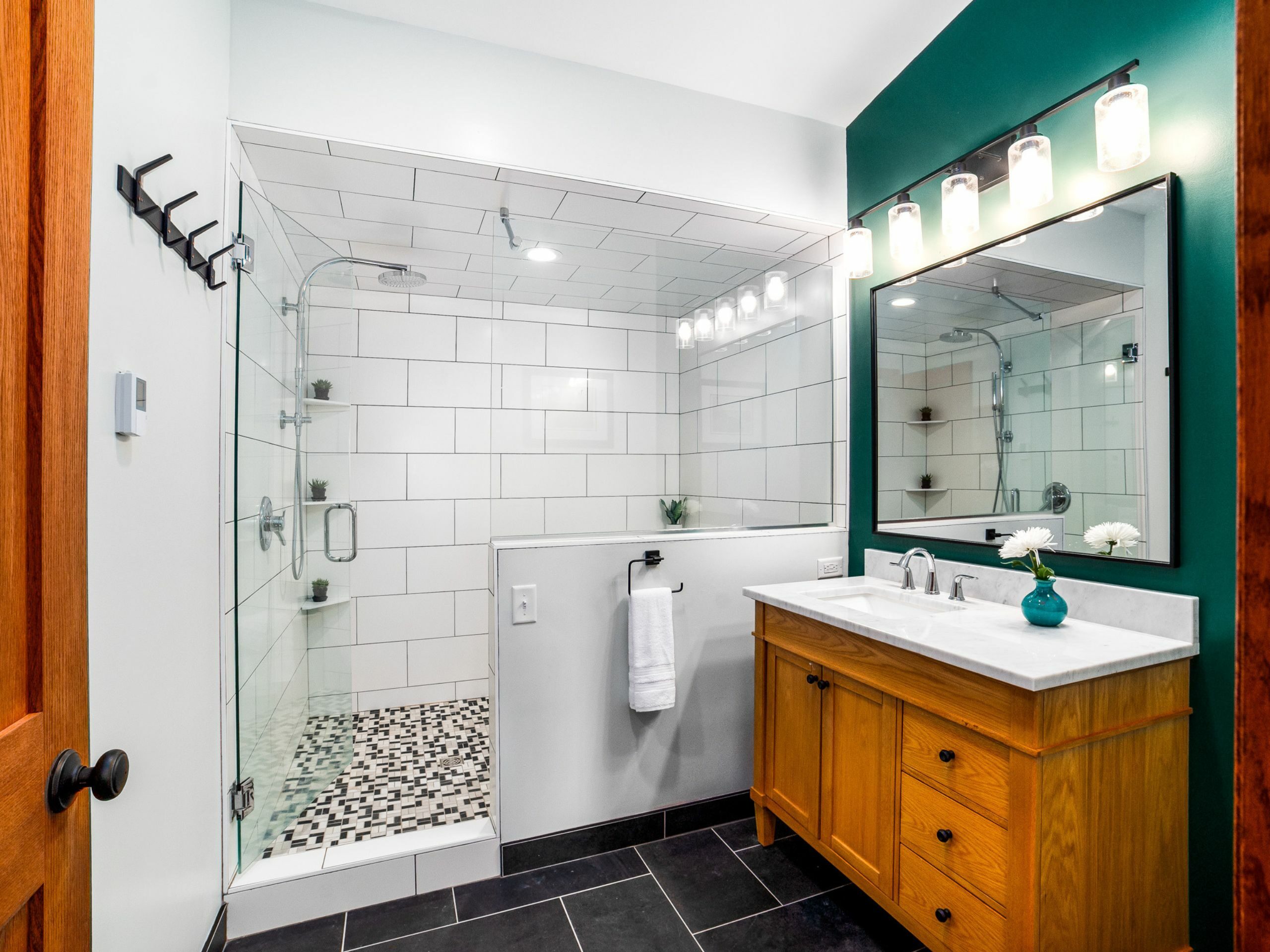 While black & white may feel simple alone, when combined they are extremely dynamic.
This versatile color scheme has endless opportunities that other color schemes just don't manage to generate. In this particular design, the shower uses large format white tiles that are easy to wipe clean and have minimal grout lines. Contrasting the white is a timeless and elegant black floor. The shower floor tile combines this classic color combination, but in a smaller tile to prevent slipping. Elevating the black and white bathroom design are the stained wood vanity and a pop of green on one of the walls.
Before & After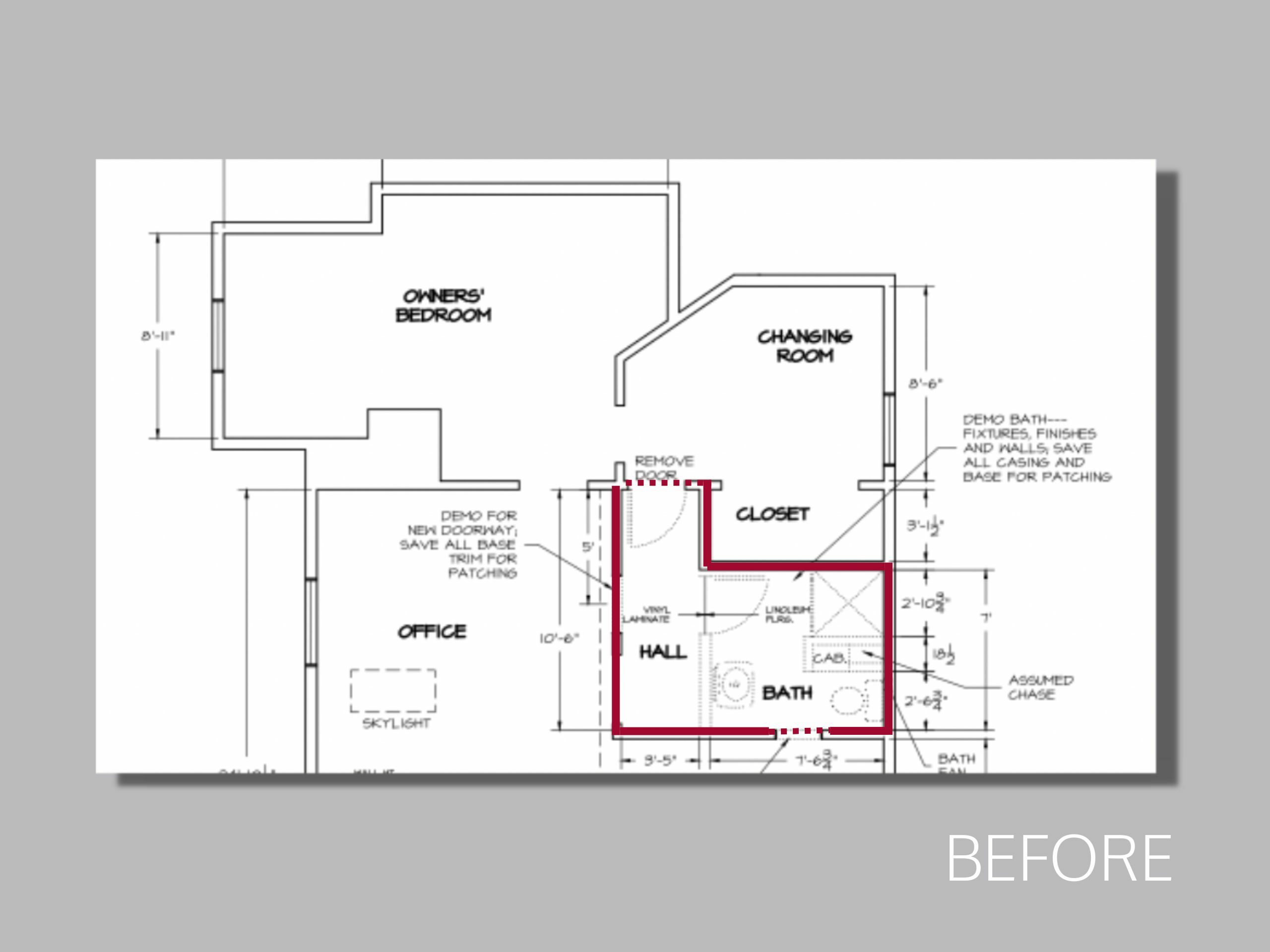 A bathroom expansion remodel typically borrows space from adjacent rooms. In this case, we eliminated the hallway from the existing bathroom and relocated the toilet. The red outline is the bathroom's new layout.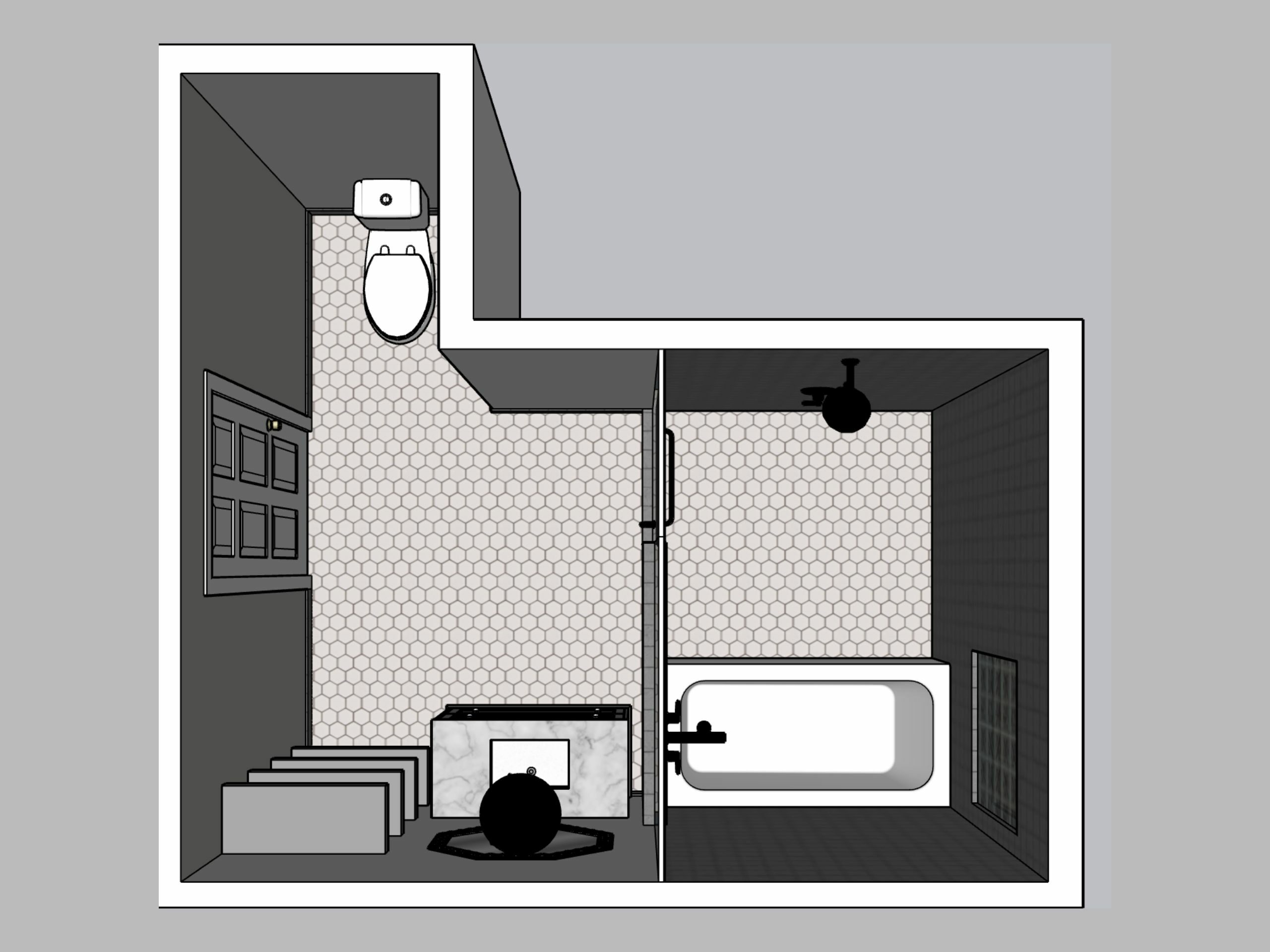 A benefit to using 3D modeling is that it gives the clients (and us), a visual of the new plan. It's hard to imagine what you know as the hallway and tiny bathroom transforming into a spa retreat!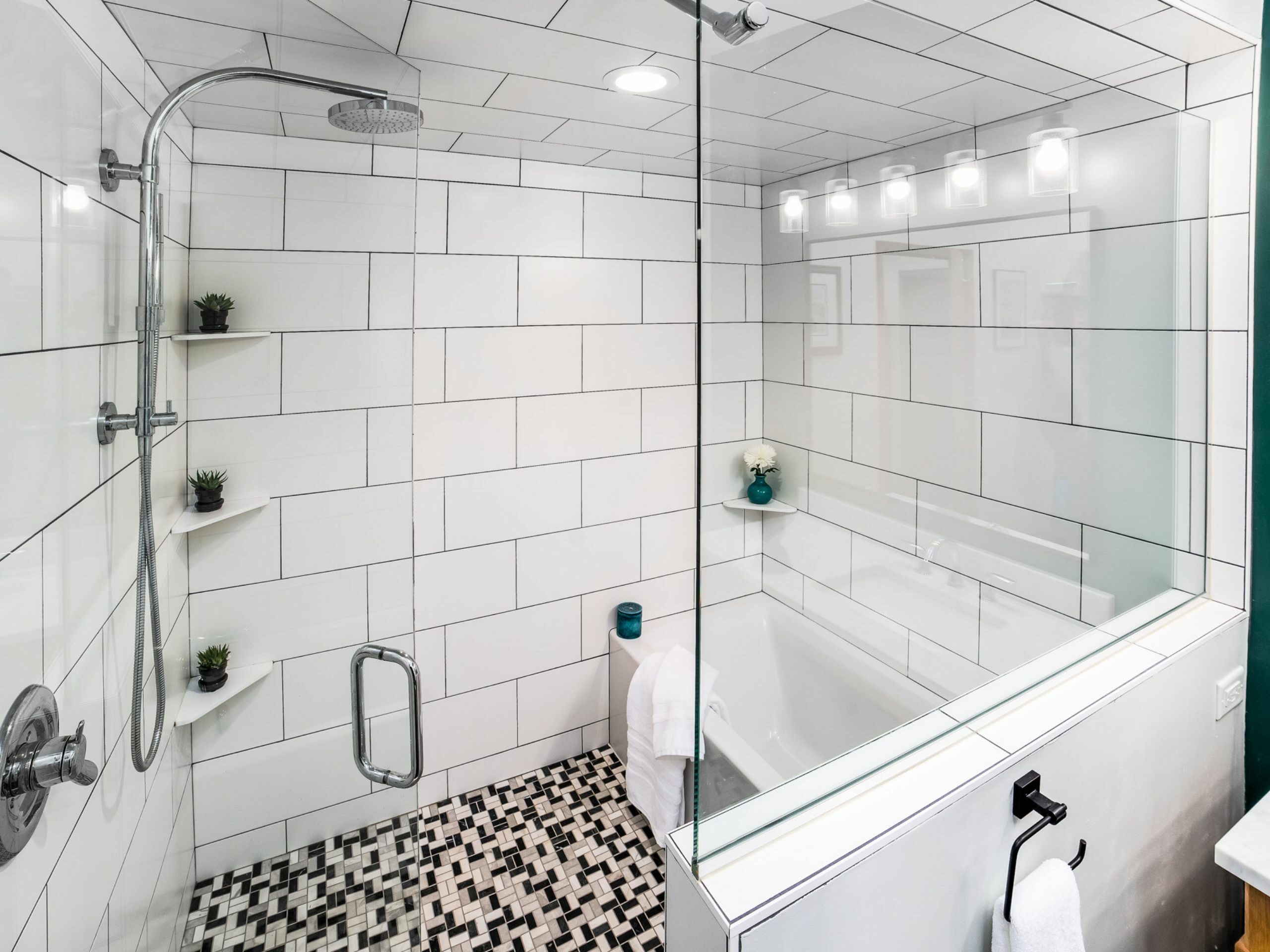 Instead of putting a shower in the tub, we put the tub in the shower!
In order to perfect the "wet room" concept in this unique shower and bath combo, there were a few requirements to make this work. The shower floor is pitched so water flows into the drain from all sides. In the surrounding area, waterproof every inch! Lastly, behind the front of the tub, or apron, there is a small curb that is waterproofed as an extra level of precaution.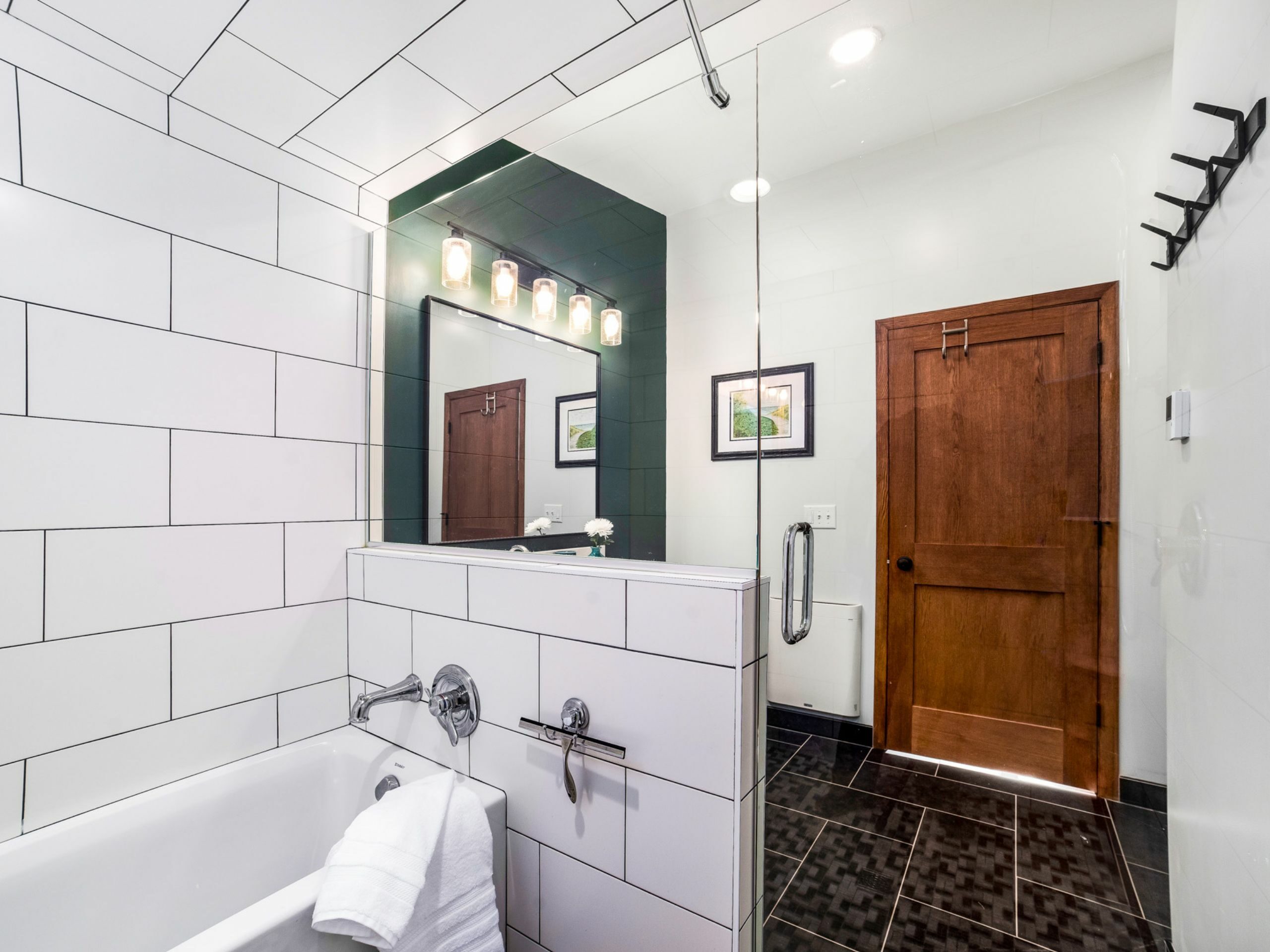 To keep the bathroom nice and toasty, we installed a wall-mounted electric heater (to the left of the bathroom door) and electric in-floor heat.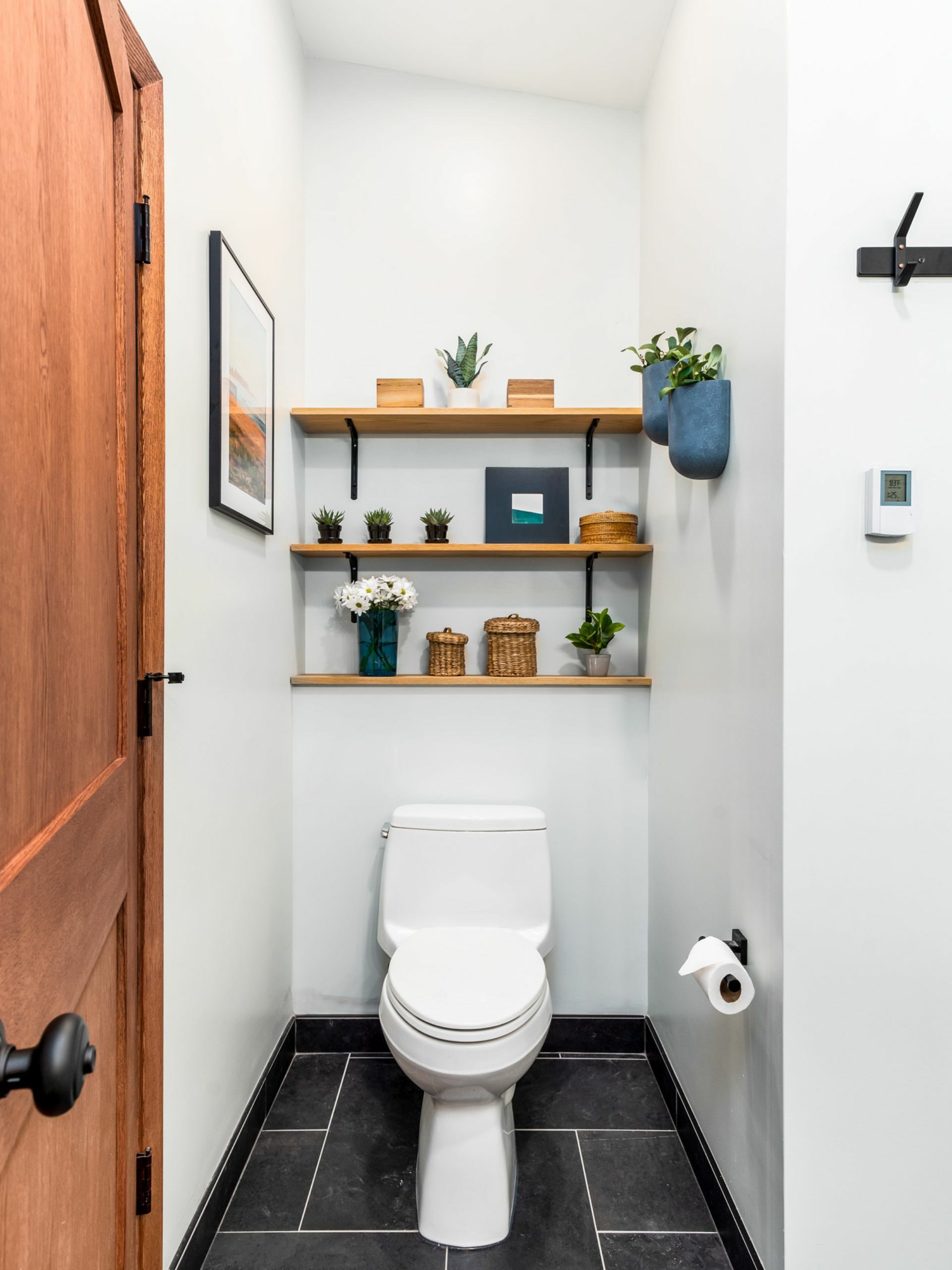 A clever design solution gives more shelving to store bathroom accessories and display decor.
What used to be the hallway and a doorway is now the toilet. Originally the toilet was supposed to sit on the back wall. When faced with a complication, we built part of the wall out six inches and added shelving above.
If the space provides the opportunity, expanding a tight and cramped bathroom can open the possibilities and transform a space. These owners had a vision, and we were able to successfully execute their idea of a spa-like retreat with an expanded footprint.